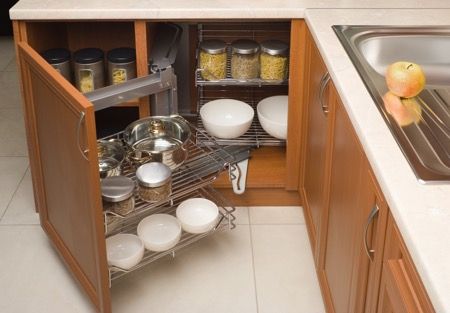 Kitchen Storage Solutions
Have you ever become frustrated in your kitchen due to clutter or lack of organization? Well, you are not alone. Your kitchen can be a work of beauty, but if it's not organized, you can begin to dislike it. Our team of remodeling experts can help make your life more enjoyable in the kitchen with proper design and organization storage solutions. We'll review your current kitchen set up and come up with innovative ideas to manage storage, eliminate wasted space, and increase efficiency.
A disorganized kitchen can be a result of the design of the kitchen itself. Whether you've accumulated a stockpile of pots and pans, or love to cook with an extensive spice collection, our designers will come up with a variety of kitchen storage solutions to utilize your space in the best way possible. There are a number of ways to better organize your kitchen, such as roll-out trays, roll-out waste containers, drawer organizers, spice racks, Lazy Susans, and more. Contact us today and learn how we can make your life easier in the kitchen. We serve residential and commercial customers in Northern Colorado including Fort Collins, Loveland, Greeley, Longmont, Thornton, and Cheyenne, WY.
Free In-Home Consultation
Looking to transform your kitchen with our storage solutions? Contact us today for a no-obligation consultation and free estimate.